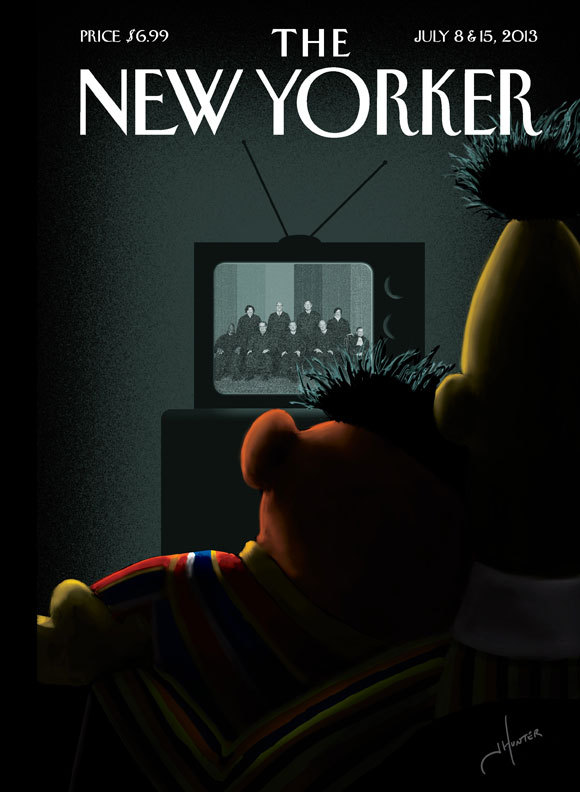 Note:

This cover from the New Yorker was posted here, but due to a technical glitch, had to be deleted and re-posted. [I don't want to discuss it.] In the brief time it was up, it drew several comments. So, since the NYer is on hiatus, consider this fodder for an Anti-Caption contest. What are Burt and Ernie saying to each other? Or, if you prefer,enter a narrative cap that would be suitable for a newspaper. Feel free to be gross, wield or stupid -- but try and be clever.
WINNERS
FIRST PLACE
Remember when we first dated and I would fuck the stuffing out of you?
--
boneguy
(JUDGE'S COMMENT: Muppets don't really have stuffing, but they do have needs. This image reminds us of that.)
SECOND PLACE
"Will you do sodomy with me now?"
--
NJ-to-TX
(JUDGE'S COMMENT: You can just hear the response: "No. But I will do sodomy TO you, little buddy.")
"No thanks, Bert. I'm stuffed."--pg13 (JUDGE'S COMMENT: Everyone seems to assume Bert pitches and Ernie catches--why?)
HONORABLE MENTIONS
Enough with this shit. Change the channel to "Behind the Candelabra".--
boneguy
(JUDGE'S COMMENT: A reference to an HBO movie that many gays hated because Liberace was portrayed as he was: narcissistic, manipulative and very creepy. Not exactly a revered figure in the community.)
"Lay, Ernie, lay, lay across Bert's 'big brass bed'..."
--
pg13 (JUDGE'S COMMENT:
"Why wait any longer for the muppet you love...?")