WINNERS
FIRST PLACE
"I'm not going to say the word I'm thinking of."

Rest in peace Roger Ebert. The only "somebody" to ever win the real contest.--
‪Anonymous‬ (JUDGE'S COMMENT: A fitting tribute to film critic Roger Ebert, who succumbed to illness last week at age 70. Turns out, he regularly entered the real Caption Contest and once won the damn thing with the cap included here. The NYer's cartoon handler, Bob Mankoff paid homage with a post that includes a sampling of what he felt were Ebert's best caps. My take: Anyone as smart, savvy and cynical as Ebert most certainly found his way to our Anti-Cap contest from time to time. He will be missed.)
SECOND PLACE
"I lost nearly a dozen friends to crack."--‪smuck‬ (JUDGE'S COMMENT: A decent cap for a pretty crappy cartoon, if you ask me. [And by implication, you did.] Why would an egg recount his woes to a strip of beacon? Why the quill pen? The cap reminds us of that drugs and breakfast exact a heavy toll. A standout only because it was a soft boiled week.)
THIRD PLACE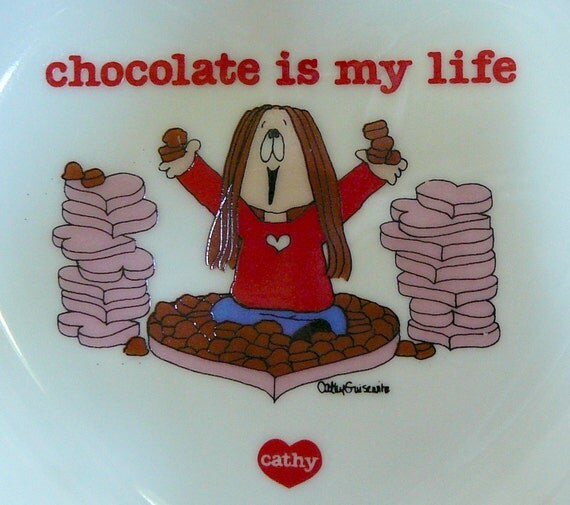 "Actually, I don't want bacon. I'm just waiting for Kathy H. to give me a couple of links."--Jim Cavanaugh (JUDGE'S COMMENT: Inside jokes usually don't finish in the top three. But this is too good to put down near the bottom.
Kathy [pictured above] is a compulsive linker who refuses to get help.)
HONORABLE MENTIONS
"Let's do breakfast."
--Anonymous‬
(JUDGE'S COMMENT: Reminded me of my days in NYC when I was a reporter covering the entertainment biz. PR people always wanted to "do" breakfast. I hated that. Why not drinks after work, I'd say. Of even better, a big-ass dinner at a fancy restaurant. That was a sure way to get me to look at your press release. I never won a Pulitzer – as Mr. Ebert did – but at least I knew how a real big city journalist operates. Good times. Good times.)
"Mine is a life of constant sulfuring."--smuck‬ (JUDGE'S COMMENT: From smuck we also got this: "Since the divorce, I feel like my life is ova." I want to once again remind everyone: Think before you post. I'm not yoking.)
"They keep saying the chicken is involved but that the pig is committed. I don't get it. I just don't get it."--
Satireguy
(JUDGE'S COMMENT: Who's "they?" People who spout meaningless drivel? )
"Well, since you asked, I have an unbelievable fear of the anachronistic use of quills by anthropomorphic characters."--
‪Kathy H‬
(JUDGE'S COMMENT: Hey! Slow down there, Little Miss Big Words. )
"When they put me back together, I ended up with Minnie Mouse's feet!"--
Dr Sumguy‬
(JUDGE'S COMMENT: Factually inaccurate. First, they couldn't put Humpty Dumpty back together again. Also, at best he has her shoes.)
‪
"If I don't attend these food-court-ordered counseling sessions, I'll really be in hot water."--
Anonymous‬
(JUDGE'S COMMENT: Cute. But lazy. Quick tip: When hard boiling eggs, put the eggs in cold water and bring the water to a boil, other wise they'll crack. )
I

'm bacon you doctor, please talk me out of ending my egg-sistence.--

‪boneguy‬ (JUDGE'S COMMENT: First one entered. I knew instantly it would be one of those weeks. You impress no one when you arrive early yet unprepared.)
"My biggest fear is that I'll never get laid again."--
Angus Podgorny
‬
(JUDGE'S COMMENT: Ironically, Angus lays an egg with each cap he pulls out of his butt.)
"Sorry, Doc, but I just can't get over the fact that your first name is Kevin!"--‪Anonymouse‬ (JUDGE'S COMMENT: Would you feel more comfortable if it was Hickory Smoked, Turkey or Center Cut. )
"Actually Kevin Bacon and salmonella are separated by 144 degrees."-- ‪Anonymous‬ (JUDGE'S COMMENT: To which the Shrink replies: Who asked you? Now let's talk about your mother.)
Why yes we are related. I'm Egg White her brother!"--‪Local Yolkel‬ (JUDGE'S COMMENT: Snow's brother was named Barry—everyone knows that. )
"Yeah, I look like Ham Rove. So fucking what.?"-- Jim Cavanaugh‪ (JUDGE'S COMMENT: This could be a dig at that swine Karl Rove. Fair enough.)
I'm haunted by the faces of my bacon.--
‪JohnnyB
(JUDGE'S COMMENT: Excellent cap Johnny! Nice work! Keep up the good work! [And yes I'm being sarcastic] )
I've got to go. I just got a call that after this week's results, Dr. Sumguy is threatening to jump off the Golden Gate Bridge again.-- ‪Anonymous‬ (JUDGE'S COMMENT: If he actually does it once, he won't be doing it again.)
"Doc, I like to misspell for comic effect. Am I
crazy
?"--‪
Kathy H
‬
(JUDGE'S COMMENT: Make fun of me all you want [not that you needed my permission] but ridicule is the residue of envy.)
"Spelling errors drive me crazy. For example: e.g."--

‪Greenie Stik-M-Caps‬ (JUDGE'S COMMENT: Quick story: I once wrote that the death of beta video tapes was to be discussed at a "mourning seminar" and everyone thought it was masterful pun. That's just the way my life works.)
"Doc, I remember you when you were a part of your daddy's belly and you were both at that store's Complaint Department. Bad fucking idea, wouldn't you say?"-
‪NJ-to-TX
(JUDGE'S COMMENT: To which the shrink says: I remember when you had you head up your mom's butt. I think our time is up. See you next week. )